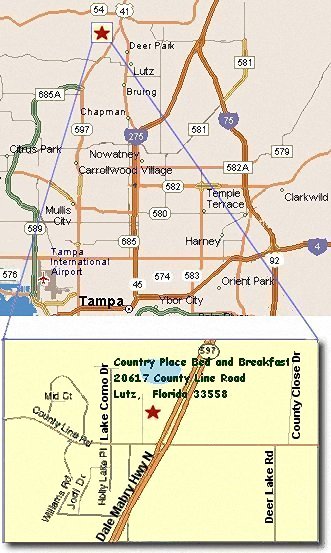 Driving Directions:

Traveling from Interstate 75 (I-75):

Exit at Exit #275 which exits onto State Road 54

Note: Do not confuse the Exit #275 with the sign for Interstate 275 junction. Look for Exit #275's sign on the RIGHT hand side of the road. There are two exits for State Road 54, take the one at Exit #275 only.

Continue west 9 miles to Land O' Lakes Blvd. Turn south, which is a left hand turn onto Highway 597, otherwise known as Dale Mabry Highway.

Drive approximately 1.3 miles. You will come to a traffic light marked County Line Road.

Turn right onto County Line Road and take an immediate right turn at the first driveway.

Country Place Bed and Breakfast is midway down the drive, on the right.

There is ample parking in front of the house, including handicap accommodations.

Click here to view our location on Mapquest. Note: Mapquest's driving directions may differ from ours listed above. Please call us if you have any questions.
For reservations or further information on group rates and availability please contact Jim Butler at:

Telephone:
No longer in business

Inn is closed: 000-000-0000

or


Continental
Breakfast served
Weather Links: